A crew of three would-be thieves tried to steal a car in Philadelphia on Tuesday morning but didn't get very far — and one of the suspects was shot and killed by the car's owner.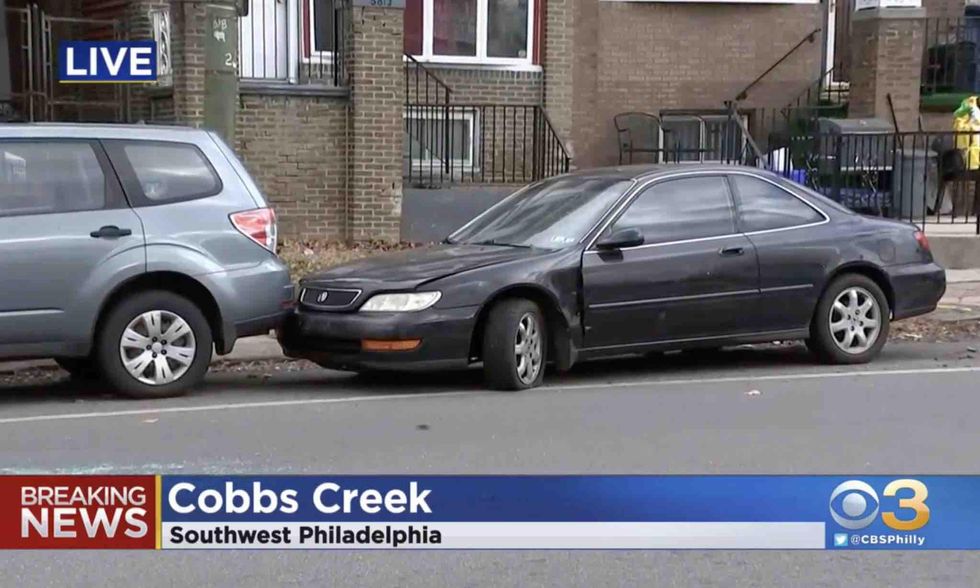 Image source: KYW-TV video screenshot
What went down?
Witnesses said the trio hooked the victim's car with straps near South 58th Street and Cobbs Creek Parkway just before 8:30 a.m.,
KYW-TV reported. According to WPVI-TV, there was an attempt to tow away the car.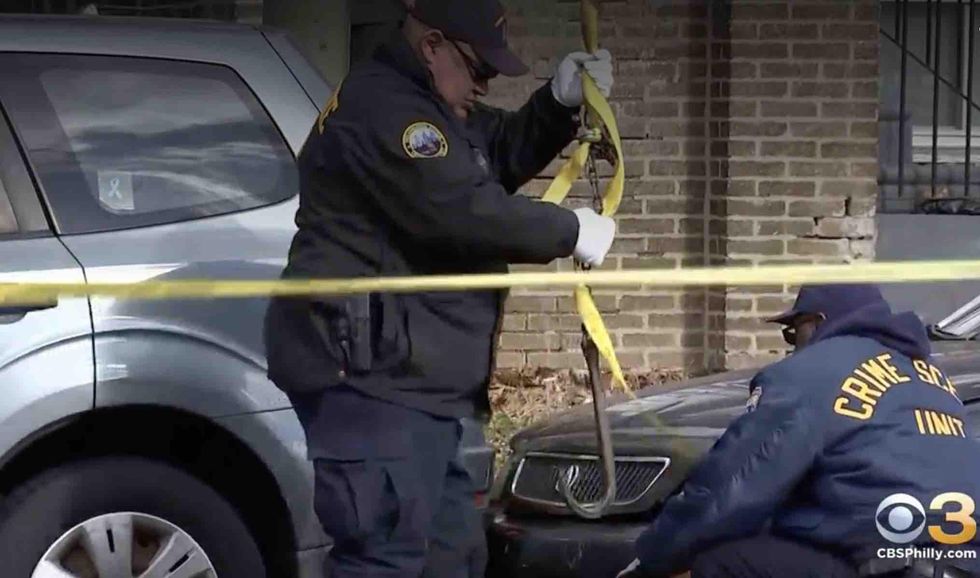 Image source: KYW-TV video screenshot
The car's owner, however, got a glimpse of what was going on and opened fire; KYW said in its video report that shots were fired from inside the car-owner's residence.
The straps broke away from the targeted car, WPVI said.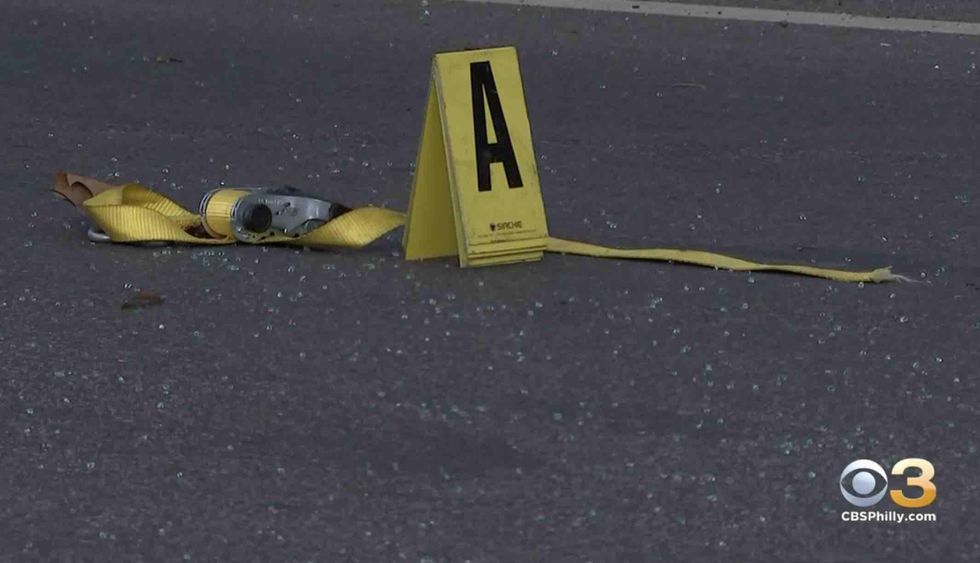 Image source: KYW-TV video screenshot
And the getaway car — a Honda — crashed into a school bus that was headed in the opposite direction, KYW reported.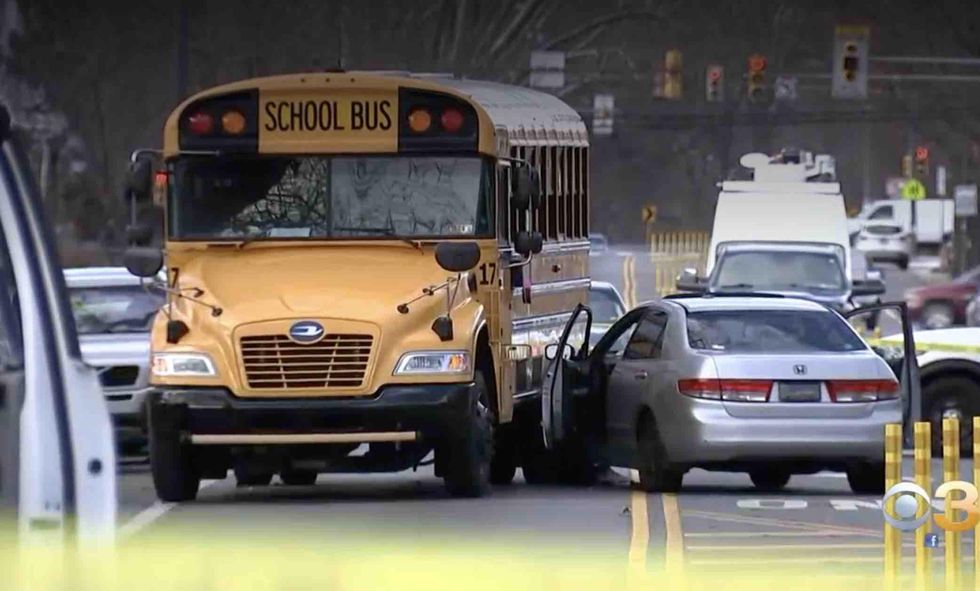 Image source: KYW-TV video screenshot
One of the suspects, a 52-year-old man, was taken to Penn Presbyterian Medical Center and later pronounced dead, KYW said.
Police said the owner of the car targeted in the attempted theft has a license to carry a concealed firearm and was not injured, WPVI reported.
A police officer was seen on KYW's video report taking a gun from inside the getaway car.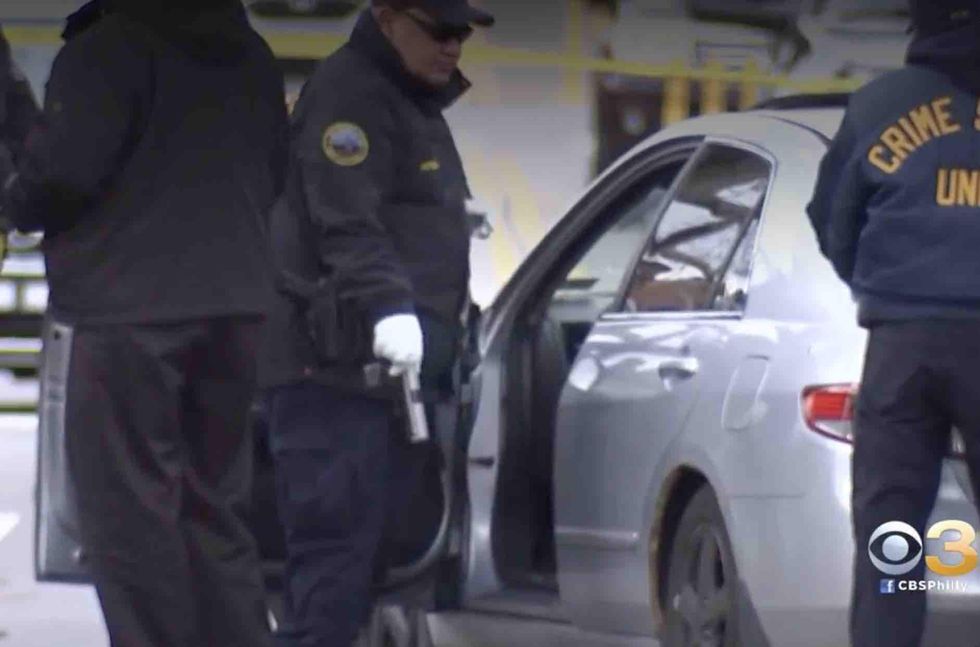 Image source: KYW-TV video screenshot
Several students in wheelchairs were on the bus that was hit and later were seen being taking off the bus and placed into another bus, WCAU-TV reported, adding that police hadn't indicated if any charges would be filed in the incident.
There were no reports of what happened to the two other men who reportedly took part in the deadly, foiled car theft.
Philadelphians fighting back
WPVI reported that as of Friday, police tallied at least 100 carjackings in Philadelphia since the start of 2022. Commissioner Danielle Outlaw added to the station that her department has planned on deploying additional resources to combat carjackings, including launching a new operational task force dedicated solely to the issue.
But some folks in the City of Brotherly Love are firing back at their car-hungry assailants.
Last week, a motorist licensed to carry a concealed firearm turned the tables on a 16-year-old carjacker, critically wounding the young crook in a shootout. Oliver Neal, 60, told WPVI that the carjacker pointed a gun six inches from his face.
"He said 'give me the keys.' By then I had my hand on my weapon and saw him tighten his grip and I knew I had to shoot," Neal noted to the station. "I think he shot first, but I don't know. All I know is we went back and forth. I started shooting, and next thing I know, he hops across the street, drops to the ground… I just kept shooting."
Also last week, WXTF-TV said another armed driver fired several times through his window when an armed suspect approached him in what police believe was yet another carjacking attempt. The station said the 18-year-old suspect was shot several times and was later charged in the incident.
"I saw the gun, and I thought he was going to shoot me and take the car, so I retaliated as fast as I could," the victim said, according to WPVI. "And just to see another day, I had to shoot the guy."
A week before that, a Lyft driver — also licensed to carry — opened fire on a couple of would-be carjackers, shooting and wounding them both. Police caught the two crooks and got them to a hospital. The Lyft driver was unharmed.