The Sims 4 announced in an update that not only will the company be adding wearable medical devices for characters, but also the ability to add chest scars and chest binders.
"A base game update is here with new content including medical wearables, binders, shapewear, a light switch & more including bug fixes & console gameplay improvements," the game's Twitter feed read.
A written summary of the game's update included the following under "Top Surgery Scar."
"All players can find a Body Scars category with an option for Teen and older male Sims (masculine or feminine frame) to add a Top Surgery Scar to their Sims."
Under "Binders and Shapewear" the company added more information, stating that "in the Tops category, you will find a Binder top asset for your Teen and Older Sims. In the underwear category for Bottoms, there is a new shapewear asset for your Sims as well!"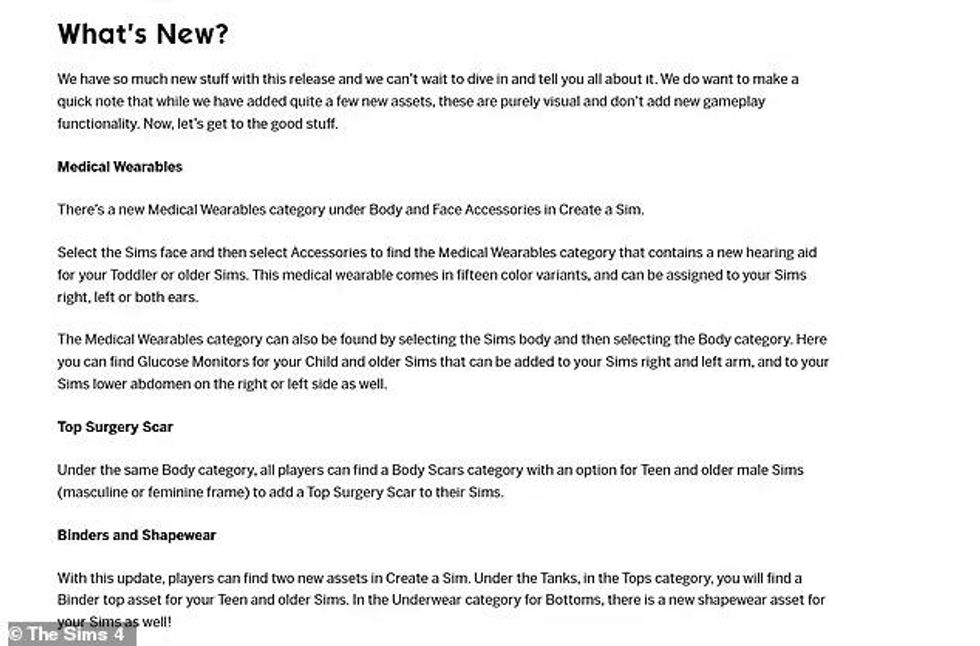 The Sims 4 game update for Top Surgery Scars and Binders and ShapewearImage courtesy DailyMail.co.uk
The Sims 4 also includes a complex set of pronoun customizations, with an array of options for implementing a user's preferred pronouns.
The customizations include subjective, objective, possessive dependent, possessive independent, and reflexive categories for the pronouns. For reflexive, the game gives the example "Eliza made the grilled cheese themself."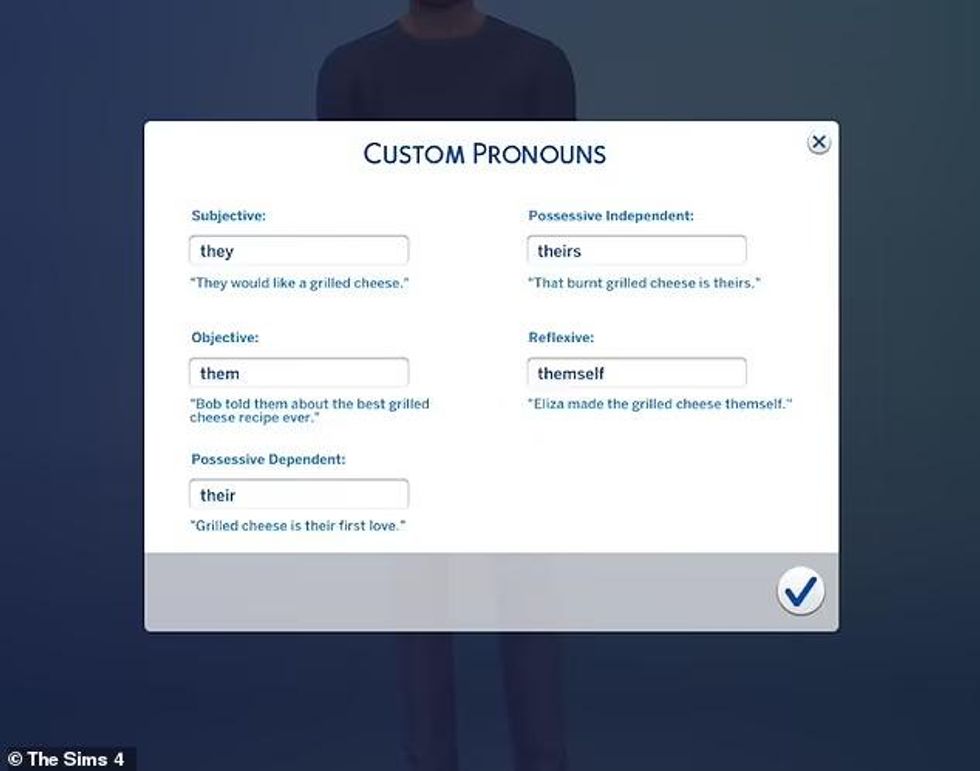 The Sims 4 custom pronoun categoriesImage courtesy DailyMail.co.uk
In 2019, the game introduced its first pre-made transgender character named Lia Hauata.
"In 2016, EA worked with LGBTQ organisation GLAAD to remove gender boundaries from the game," outlet PCGamesN wrote.
The article adds that a YouTuber who was reviewing the content said that "one of the biggest franchises ever, just put an actual transgender Sim into their game, and she's beautiful."
In 2014, Russia made the game's rating 18+ in the country due to the addition that characters could be made gay, as it gave users the ability to choose a sexual orientation for their Sim.
Like Blaze News? Bypass the censors, sign up for our newsletters, and get stories like this direct to your inbox. Sign up here!