An 84-year-old school bus driver was punched in the face by a student outside West Cabarrus High School in Concord, North Carolina, late last month, WJZY-TV reported, citing a police incident report.
What are the details?

The bus driver was at the school waiting for students to exit the bus on the morning of Feb. 27, WJZY said, citing the report from Concord police report, adding that the student came up and punched the driver in the face.
The station said it's unclear what led up to the attack.
Police told WJZY the student faces a criminal charge that will be handled through juvenile services. The station didn't report the student's age.
WJZY said it asked Cabarrus County Schools about the extent of the driver's injuries and if the student was disciplined; the station said the district replied that it can't comment on personnel issues or student discipline.
But the school bus driver did tell WJZY earlier this week that he's doing OK, and that the attack hasn't stopped him from continuing to drive his bus, the station said.
The district hasn't yet answered WJZY's questions regarding if there were cameras on the school bus or if the district recorded the incident, the station said.
Cabarrus County Schools released the following statement about the alleged incident, WJZY reported:
"Cabarrus County Schools is aware of an incident on a parked bus at West Cabarrus High School last week that involved the assistance of law enforcement.

"This is an on-going matter, and we are cooperating with local law enforcement to provide any information that we have.

"Student and staff safety is a top priority for Cabarrus County Schools. We are taking appropriate internal actions to provide for a safe environment on our buses.

"These actions include utilizing adult bus monitors as necessary, buses equipped with cameras, and bus driver professional development.

"As you are aware, we cannot comment further on personnel issues or incidents involving student discipline."
Parent speaks out
"You're sitting there; you're a sitting duck," Victor Turner, a West Cabarrus High School parent, told the station in regard to the attacked school bus driver.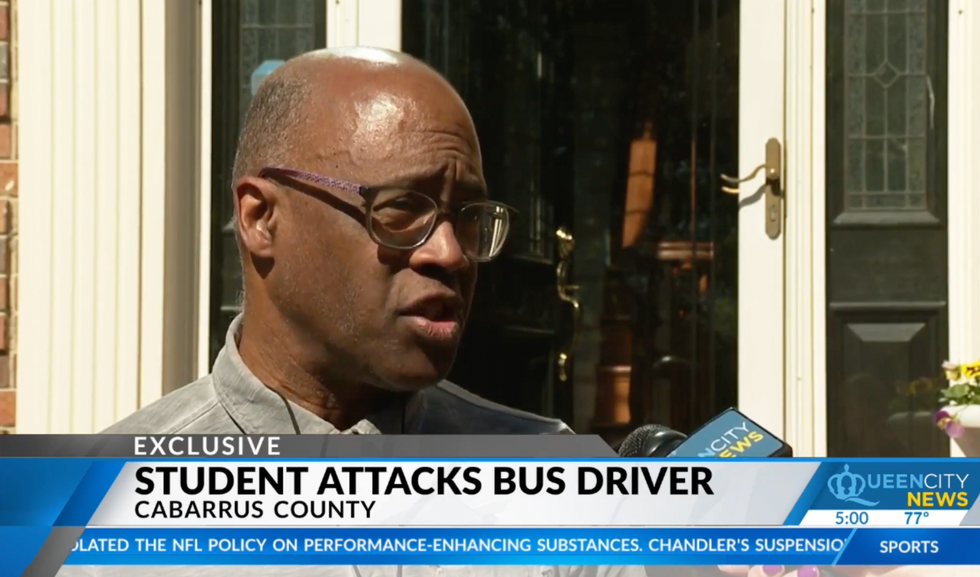 Image source: WJZY-TV video screenshot
"There's just no reason, in my view, to go after somebody who can't defend themselves," Turner explained to WJZY, adding that "I don't like seeing anybody being that violent, especially when there's no provocation."
He also told the station that his daughter rides a different bus, but that it's not always easy to trust she will be OK.
Like Blaze News? Bypass the censors, sign up for our newsletters, and get stories like this direct to your inbox. Sign up here!