Students in Maryland reportedly fought a man who tried to kidnap a middle-schooler at a bus stop in Gaithersburg on Monday morning, police said.
What happened?
Montgomery County police said the victim was standing at the bus stop in the 17600 block of Towne Crest Drive around 7:20 a.m. when the suspect allegedly grabbed the child and pulled the victim toward an apartment building.
But several students at the bus stop "attempted to intervene, and the victim was able to break free," police said. WTTG-TV in its video report about the incident said students "fought" the suspect.
Police said all the students boarded the bus when it arrived at the stop, and the incident was reported to school staff.
The community engagement officer of Redland Middle School responded to the school just before 8 a.m. in regard to the attempted kidnapping report, police said.
Detectives identified 30-year-old Jamaal Germany of Gaithersburg as the suspect, police said, adding that detectives from the department's Special Victims Investigations Division later arrested Germany in connection with the attempted kidnapping,
Germany was taken to the Montgomery County Central Processing Unit, police said, adding that bond information wasn't immediately available.
Detectives asked that all those who believe Germany may have victimized them should call 240-773-5400.
What else?
Principals at Resnik Elementary, Redland Middle School, and Magruder High School sent a joint letter to families after the incident, WTTG said, adding that the letter said "there was an attempted abduction of a Redland Middle School student" on Monday morning and that the student is "unharmed."
"We are sharing this information with all three school communities given that the bus stop where the incident occurred is used by students from these schools," the letter continued.
The principals also said they are "grateful for the quick action of our students and the bus driver."
In an interview after Germany's arrest, a woman told WTTG she recognizes him as one of her neighbors and that she's seen him playing with kids at a park.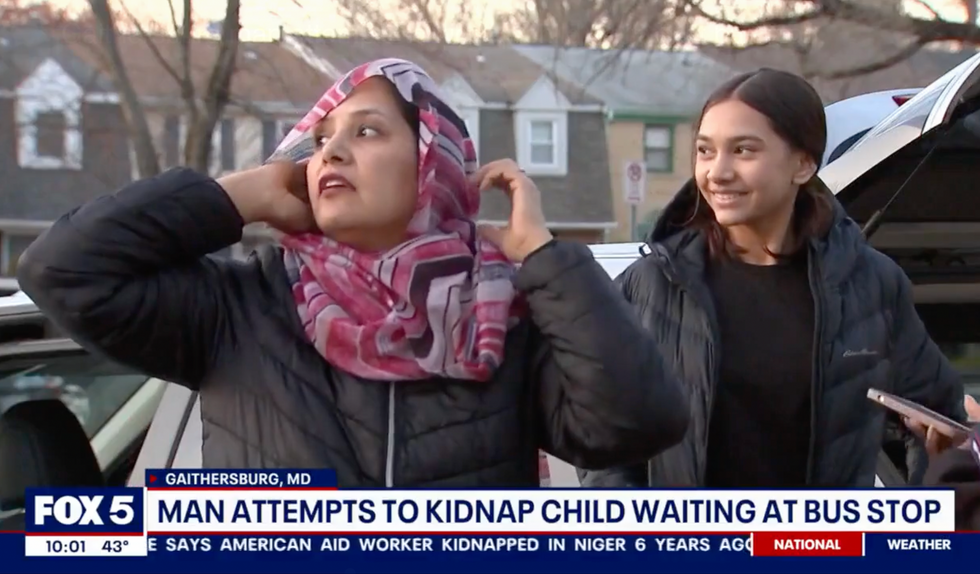 Image source: WTTG-TV video screenshot
Another woman added to the station that she's "so proud" of the students for "standing up for each other" particularly in times "when there's so much bullying going on, for them to stand together and defend each other, it's assuring."
Like Blaze News? Bypass the censors, sign up for our newsletters, and get stories like this direct to your inbox. Sign up here!