An off-duty Florida firefighter may have been late in getting his son to soccer practice Saturday morning, but he was right on time when it came to saving the life of a 33-year-old Seminole County deputy.
The Seminole County Sheriff's Office indicated that Deputy Matthew Luxon suffered a medical emergency around 10:30 a.m. near Orange Boulevard and Wayside Drive in Sanford, Florida, where he then crashed into a concrete pillar.
The medical incident and the resultant crash may have been the beginning of Luxon's problems, but they certainly weren't the last. His patrol car caught fire and quickly became an inferno.
Lt. Benjamin Wootson of the Orlando Fire Department happened to be in the neighborhood, rushing his son to soccer practice.
The off-duty firefighter told WFTV, "We were running late getting to my son's soccer practice. … Typically, we try to get there 30, 45 minutes early so they can do the warm-up. My son was dragging his feet, taking his time. As we were turning left onto Orange, I noticed a patrol car coming toward us."
Wootson noted he has a "habit of always looking in my mirrors."
Sure enough, when he checked his rearview, he saw Luxon's patrol vehicle hammer the overpass support.
"I immediately pulled a U-turn at the next intersection and rushed back," said Wootson. "By the time i got on scene, there was a little bit of flames on the underneath of the vehicle, the engine compartment was already on fire."
Wootson told WOFL-TV, "As I was pulling him out there were probably two golf ball-size flames where his legs were."
Wootson managed to get the disoriented deputy out of his seatbelt and ultimately out of the blaze. No sooner had the firefighter disentangled Luxon from the wreck than the patrol vehicle burst into flames, along with the ammunition in the trunk.
As bullets sounded off and the fire burned, Wootson used the deputy's radio to call for "an officer down scenario."
While he tended to Luxon, Wootson's neighbor arrived on the scene to tend to the firefighter's son. Another onlooker moved the firefighter's car to get clear of the heated display.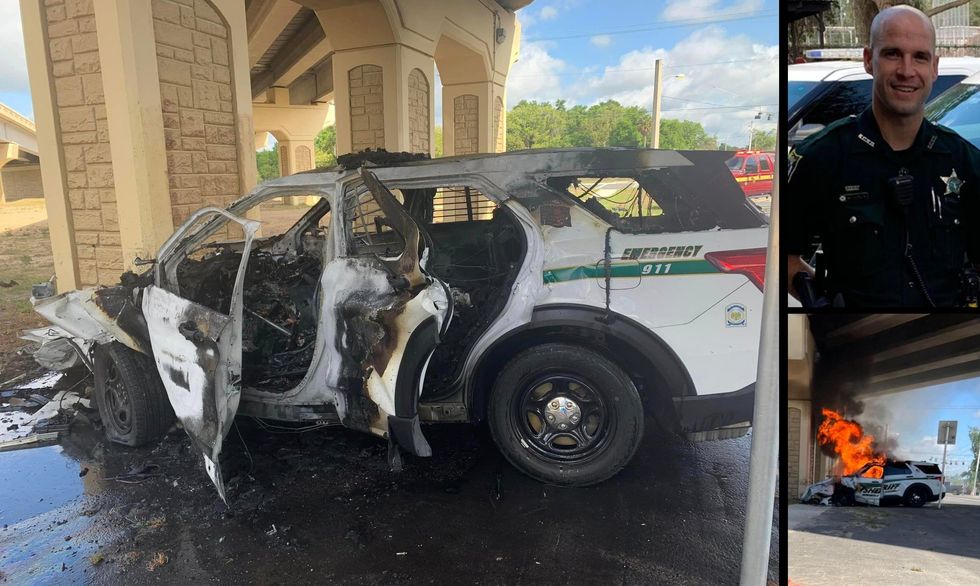 Image composites consists of Seminole County Sheriff's Office photos
The SCSO indicated that Luxon was taken to a local hospital where he underwent successful surgeries and was stabilized.
According to WFTV, the deputy is still in the hospital.
Sheriff Dennis Lemma said in a statement Sunday, "Matt had successful surgeries into the late hours on Saturday but make no mistake; he has a long road to recovery ahead of him. The support of our Seminole County, and the greater Central Florida community, will help Matt pull through now and into the immediate future."
One of Luxon's coworkers started a fundraiser for the injured deputy and his family, which has already secured in excess of $22,000.
As for Wootson's heroics, Sheriff Lemma said, "I also spoke with Orlando Fire Department Lieutenant Benjamin Wootson, who heroically rescued Matt from his patrol unit moments after his crash and just before the unit caught fire. Lt. Wootson, who was off duty and also very kind when we spoke, simply reminded me that 'this is what we do.'"
Lemma added, "I thank God that he was there at that time, and I expressed my gratitude and shared commendation to OFD Chief Charlie Salazar as well."
Wootson reckons his delay and his son's apparent tardiness Saturday morning were providential: "God put me in a place where [my son and I] were running late on purpose. I was in the right place at the right time to save an individual."
The firefighter emphasized to WESH-TV, "If you're ever in a circumstance and you see something, don't just sit back and watch. Get out, do what's right, make a change because those little things could be a long impact lasting, it could be generational changes."
Off-duty firefighter saves Seminole County deputy from burning caryoutu.be
Like Blaze News? Bypass the censors, sign up for our newsletters, and get stories like this direct to your inbox. Sign up here!