A rather large male was caught on video repeatedly kicking a woman's car amid a violent street takeover in Connecticut on Sunday night — and sadly, the message on the perpetrator's hoodie read, "Love Never Fails."
What are the details?
A group of more than 100 people blocked off Route 195 in Tolland around 10 p.m., WFSB-TV reported, and performed donuts and other stunts, leaving skid marks on the street.
Town Manager Brian Foley told WTNH-TV a witness said people were wearing masks and walking up and down stopped traffic.
Cellphone video shows some members of the group kick and jump on top of a woman's car after she incredibly left the driver's seat and appeared to confront the group and pleaded with them to stop. The vehicle appeared to be trapped.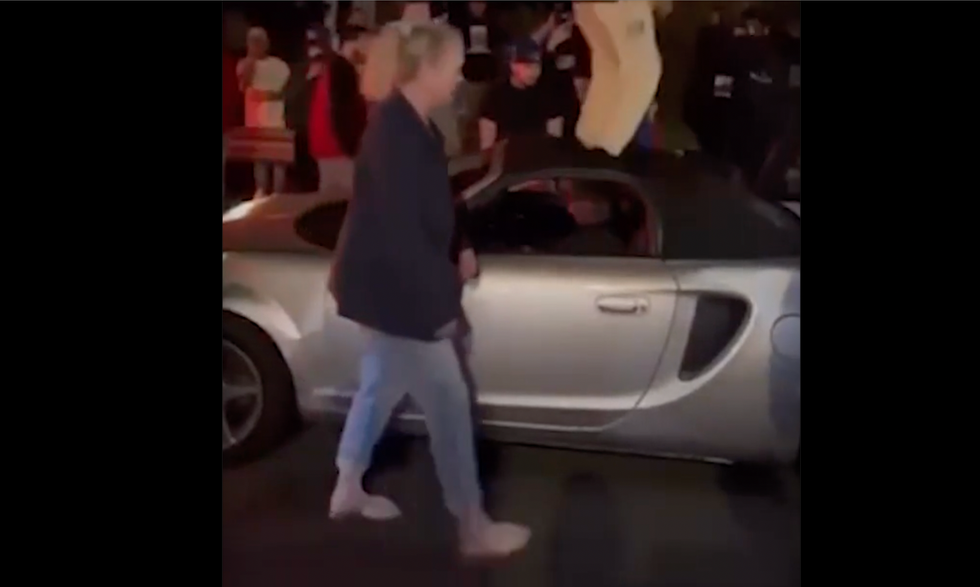 Image source: WTNH-TV video screenshot
Sadly, one of the main perpetrators who repeatedly kicked the side of the woman's car was wearing a hoodie with a written message on the back that read, "Love Never Fails."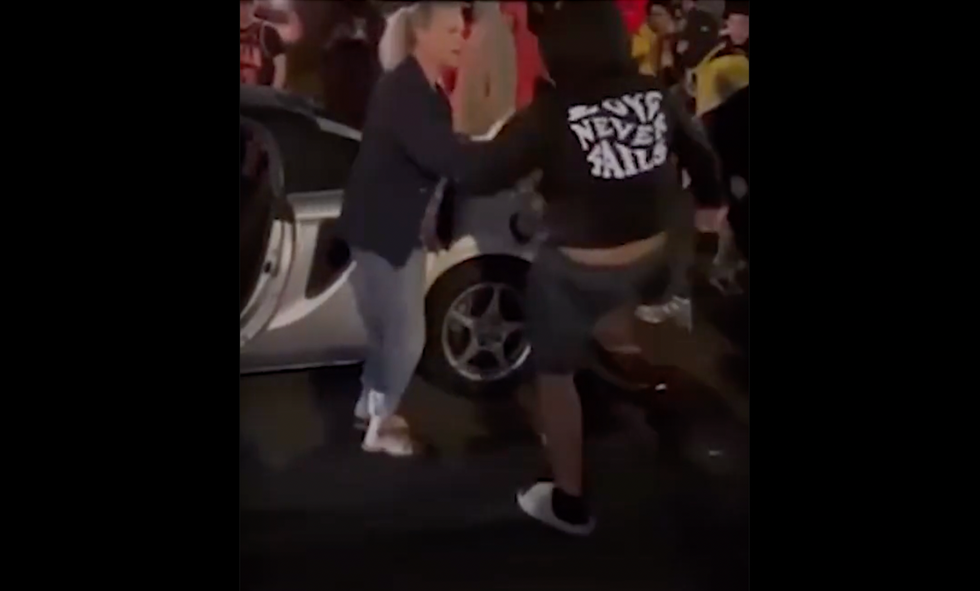 Image source: WTNH-TV video screenshot
The phrase is well known and presumably taken from the Apostle Paul's "love chapter," 1 Corinthians 13, in the New Testament of the Bible.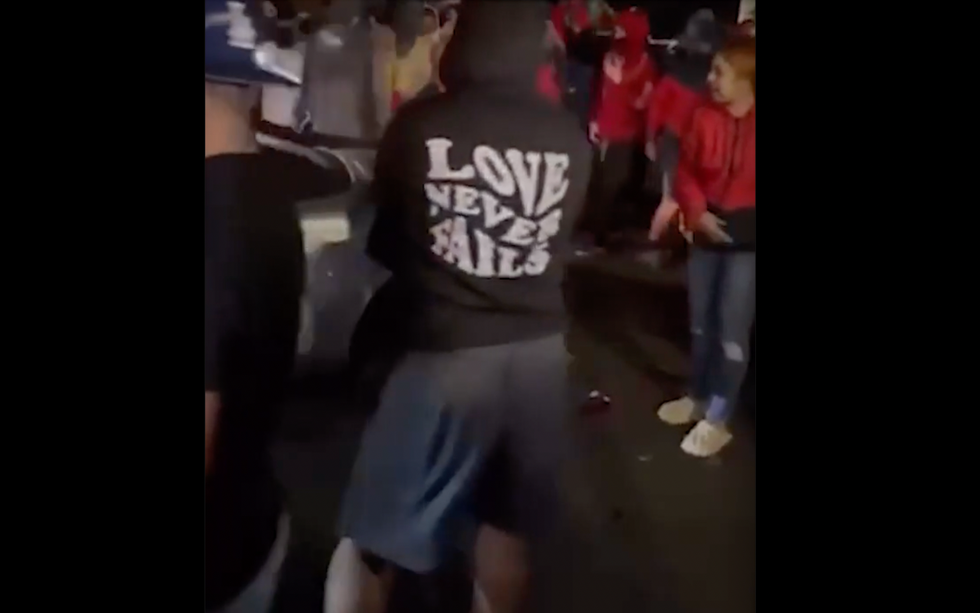 Image source: WTNH-TV video screenshot
The phrase "love never fails" begins verse 8, and it follows the famous passage encompassing verses 4 through 7: "Love is patient, love is kind. It does not envy, it does not boast, it is not proud. It does not dishonor others, it is not self-seeking, it is not easily angered, it keeps no record of wrongs. Love does not delight in evil but rejoices with the truth. It always protects, always trusts, always hopes, always perseveres."
What else?

In reference to the woman's car being destroyed, Foley told WTNH that street takeovers are terrifying enough and that it's "very, very scary to happen surrounded by 10 to 20 people attacking the car and jumping on it."
The woman's daughter launched a GoFundMe in relation to the car's destruction, saying the street takeover "blocked the intersection, and they were just trying to drive home. The mob of people destroyed my mom's car. It's totaled. For no reason. Anything helps. This car brought my mom so much happiness, and that was taken from her last night. In her home town. For no reason."
Foley added to the station that the takeover was so large that an ambulance call had to be delayed because the Exit 68 ramp and Merrow Road were blocked.
"I think it's extremely irresponsible," Sean Mathieu of Tolland told WTNH. "Obviously, they're kids, they don't know what they're doing, but at the same time, you respect other people's property."
Foley added to WFSB that state police decided to stand down in the face of the street takeover.
"What are you gonna send, one cop, two cops? How many cops are you going to muster up at 10 on a Sunday night?" he also told WFSB. "This is a violent episode. You saw the same video I saw. That's violence, and we don't want that type of escalation."
Foley noted to WFSB that some participants even had baseball bats.
Anything else?
Police told WFSB that 20-year-old Jefferson Duron of Norwalk — whom authorities said was one of ring leaders of the street takeover — was arrested Sunday. He was charged with inciting a riot, first-degree riot, first-degree reckless endangerment, reckless driving, improper rear/marker lamps, and failure to display plates/inserts, the station said.
Duron is out on a $30,000 bond, WFSB said, adding that he appeared in Manchester court on Monday and will be back in court on June 29.
Like Blaze News? Bypass the censors, sign up for our newsletters, and get stories like this direct to your inbox. Sign up here!