Cellphone video caught the shocking moment when a tornado sucked a "very petite" high school teacher through a classroom doorway in Montebello, California, on Wednesday. Montebello is about 20 minutes southeast of Los Angeles.
What are the details?
A Vail High School student told KNBC-TV that the teacher opened the door of the second-floor classroom because another student was on the ledge outside.
The clip shows the teacher standing near a door — but when she opens it, the high-powered winds quickly slam the door open, after which the teacher gets pulled right through the doorway opening.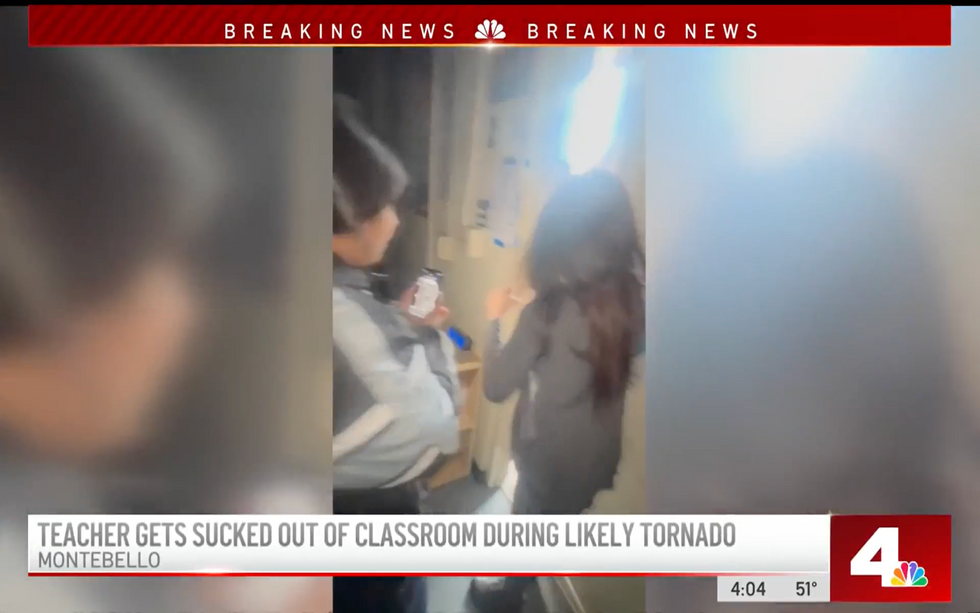 A few understandably panicky people are seen on the clip running after her, but the teacher isn't pulled too far away — instead she was knocked to the ground just outside the door
"Basically, she opens the door so she can get the student inside, and the entire door — she flies with the door, and it was absolutely crazy," the student told KNBC. "My first instinct was to go grab her because she's very petite, she's very little. And yeah, so it was crazy. All of it was crazy."
The video also shows the teacher — who wound up in a seated position on the ground — getting helped to her feet. The station said she reportedly sustained minor injuries.
More from KNBC:
The tornado damaged 17 buildings in the city, with 11 being red-tagged, according to Montebello spokesman Michael Chee.

Ariel Cohen, meteorologist in charge at the National Weather Service Los Angeles/Oxnard, confirmed that it was a tornado that caused the damage. He said crews were still surveying the area to determine how strong the twister was.

The damaging winds followed a day of severe weather that included a tornado warning Tuesday night for central Ventura County and southwestern Los Angeles County. The system was expected to move out late Wednesday, but not before another wave of scattered showers.
A KTLA-TV story said the tornado touched down at 11:14 a.m. and was on the ground for two to three minutes. Officials soon determined the tornado was an EF1 on the Enhanced Fujita scale with peak winds of 110 miles per hour, KTLA noted, adding that it was about 50 yards wide and covered four-tenths of a mile.
Like Blaze News? Bypass the censors, sign up for our newsletters, and get stories like this direct to your inbox. Sign up here!