Michael Todd, the leader of a Tulsa megachurch, sparked intense backlash after a viral clip showed him smearing spit on a person's face during a sermon illustration on Sunday.
Todd, who leads Transformation Church, literally hawked a loogie into his hand and rubbed it on a man's face. The point of the illustration, Todd claimed, was that "receiving a vision from God might get nasty."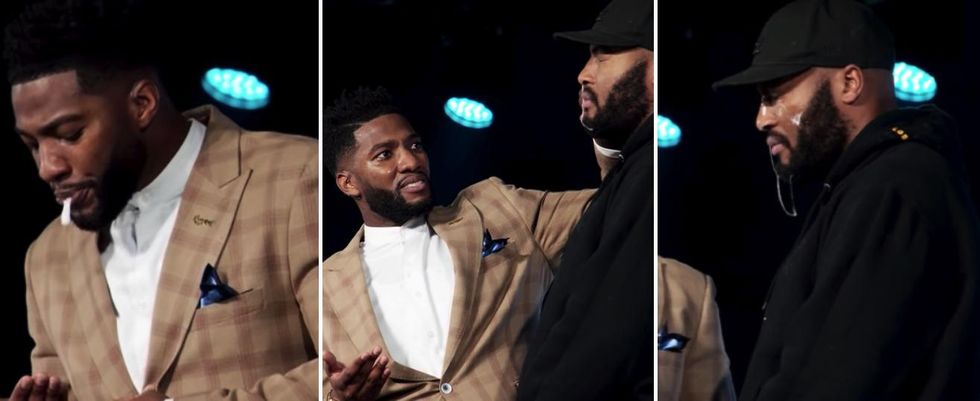 Image source: YouTube screenshot
When Todd hawked the loogie into his hand — twice — the audience gasped and jeered. However, the reaction failed to deter Todd. In fact, he seemingly mocked the disgusting act.
"Many of you are so bothered, like literally some of y'all can't even look … but this is what it will feel like," Todd said, later adding, "The thing about the blind man, the thing about us, if we want to see clearly, we have to allow Jesus to do it."
Todd was allegedly demonstrating his understanding of Mark 8:22-26, a story in which Jesus spit toward the eyes of a blind man, who later gained his sight.
However, the point of that story in the Gospel of Mark is not receiving nasty visions or getting outside your comfort zone, the preceding point of Todd's sermon.
In actuality, Mark 8:22-10:52 is framed by two stories of Jesus healing blind men to further emphasize a key motif in Mark's gospel: the marginalized (such as blind people) and outsiders are those who "see" and "hear," whereas those who should see and hear the truth about Jesus, like his disciples, increasingly misunderstand Jesus and become confused about the implications of his identity.
What was the reaction?
Christians spoke out in force against the disgusting act. Not only was the act itself condemned, but critics observed that Todd's combination of spirituality and the demeaning act was particularly problematic.
Perhaps the only positive aspect of this story is that the person on the receiving end of Todd's spit was his younger brother — though that does not make the demonstration any better.

Clearly // The Vision For Invasion // Vision Sunday 2022 // Michael Todd

youtu.be