I won't sugarcoat it: President Joe Biden and his son, Hunter Biden, are looking more and more like the single most corrupt father-son duo in American politics. Whether you look at the lies told by both regarding their corrupt foreign business dealings or the fact that they directly participated in improper deals, it's hard to deny that crimes have been committed.
Biden has consistently repeated the claim that his son "did nothing wrong" amid a series of investigations he's undergoing. Really? There's an overwhelming amount of evidence revealing that your son has likely done quite a bit wrong.
The evidence stems not just from Hunter's abandoned laptop but also from testimony from his ex-business partner and friend, Devon Archer, who sat alongside Hunter on the board of  Ukrainian energy company Burisma Holdings. Archer recently testified before the House Oversight Committee, where he exposed the fact that Hunter used the name of his father — then-Vice President Joe Biden — to entice business associates.
"So is it fair to say that Hunter Biden was selling the illusion of access to his father?" Rep. Dan Goldman of New York asked, according to the transcript, shared by Fox News.
"Yes," Archer initially responded.
"So when you talk about selling the brand… it's not about selling access to his father. It's about selling the illusion of access to his father. Is that fair?" Goldman followed up.
"Is that fair? I mean, yeah, that is — I think that's — that's almost fair," Archer responded.
"Almost fair. Why almost fair?" the Democrat asked.
"Because there, there is, there are touch points and contact points that I can't deny that happened," Archer replied.
Note that the phrase "illusion of access" was expressed by Goldman but ultimately not endorsed by Archer. Archer told lawmakers during his testimony that Hunter would use his father's name to "get leverage" over certain business dealings. This is just one way, according to Archer, in which Joe Biden was involved in Hunter's foreign business dealings. Joe was the "brand" that Hunter would consistently offer.
Archer also told investigators that Hunter put his father, then-Vice President Joe Biden, on speakerphone at least 20 different times while meeting his business partners. This was Hunter trying to sell "the brand."
"You aren't talking about Dr. Jill or anybody else. You're talking about Joe Biden. Is that fair to say?" Archer was asked during the House Oversight Committee hearing.
"Yeah, that's fair to say… Obviously, that brought the most value to the brand… It was Hunter Biden and him," Archer said. "We would discuss having, you know, an understanding of D.C. and that was a differentiating component of us being able to raise capital," Archer replied.
This would mean that Joe Biden — as we on the right have always suspected — was directly involved in his son's business dealings. Just recently, a 2015 White House press photo surfaced showing one of Hunter's business associates, Amos Hochstein, riding on Air Force Two with then-Vice President Joe Biden.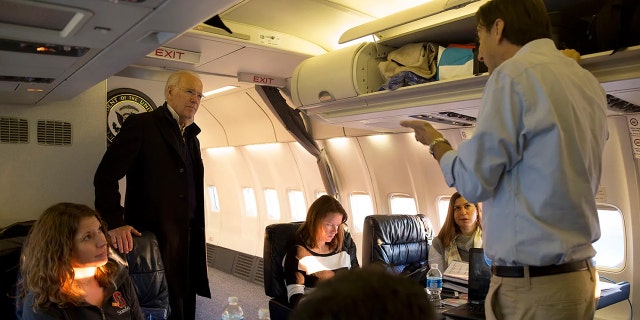 "At the time of this photo, Hochstein was in communication with Hunter Biden and Burisma where Hunter served on the board," Rep. Elise Stefanik (R-N.Y.) told Fox News Digital. "We also know that this photo was taken on Air Force Two ahead of Joe Biden's now infamous meeting with Ukrainian President Petro Poroshenko, where Biden threatened to have aid withheld if a Ukrainian prosecutor investigating Burisma was not fired."
But, you know, according to Joe, he was never involved in his son's business dealings.
"All evidence points directly to Joe Biden being deeply compromised. House Republicans will leave no stone unturned in our investigations into Biden's involvement in his family's influence peddling scheme," Stefanik added.
Related: Is This Why Joe Biden Will Drop Out of the Race?
With the ever-growing abundance of evidence concerning Joe and Hunter Biden using their power and influence in their business dealings, why is the Department of (In)Justice focused on going after former President Donald Trump on baseless, unsubstantiated claims? Why are they investigating his intention to "overturn" the 2020 election, his alleged hoarding of classified documents, and his supposed involvement in the Jan. 6, 2021, Capitol riot? Why isn't the DOJ focused on going after the Biden family, when there is a sea of evidence surrounding their blatant corruption?
Just recently, Attorney General Merrick Garland appointed U.S. Attorney from Delaware David Weiss to serve as special counsel in the ongoing investigation of Hunter Biden. But Weiss has supposedly been investigating Hunter since 2018 and has gotten nowhere in his investigation. Is he even trying?
All this is happening because we no longer have a fair judicial system. These career bureaucrats must go, for they are destroying the very means of law enforcement in this country. Today, we have a two-tiered prosecutorial system.